Yenhua Lighting is a professional and reputable led panel light manufacture in China. We care about quality of light and focus on excellent lighting solution to different ceiling systems. More importantly,Yenhua Lighting is good at heat dissipation management from design to production. The heatsink systerm consists of aluminium frame, PCB design of high heat dissipation ratio, tape sticker of high heat dissipation ratio. The frame is made from pure 6063 aluminium, to help much heat from working LEDs go out right way. Our designer will fully consider theory of heat dissipation during LEDs layout design on the PCB. At the same time, the materials of good heat conductivity such as PCB, tape sticker also take an important part in heat dissipation management. Material selection and nice design can ensure long lifetime of LEDs.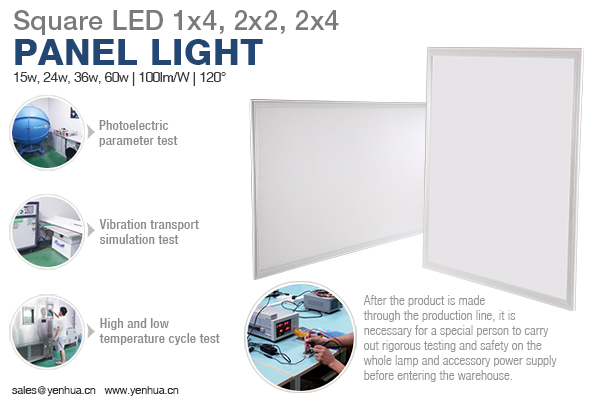 The function is as follows:
1. Ultra-thin design. It is only 9 mm thick and light weight. It is therefore suitable for any type of ceiling system.
2. Replace the lamp fixture directly. It can replace the lamp on the ceiling.
3. Easy to install. To save labor costs, you can install without tools.
4. Long life. The brightness of the LED panel light is 10 times that of the lamp. It is not necessary to replace the failed pipe frequently.
5. Easy dimming solution. Yenhua Lighting LED panel lights are dimmable and compatible with DALI, TRAIC PWM dimming systems.
6. High light efficiency. Yenhua Lighting panels feature the best SMD LED sources and reliable high PF LED drivers.
7. High CRI: Ra>80 is available. Usually, Ra >75 is a general parameter of the product.
8. Different sizes of irregular LED panels can be customized. 1X4, 2X2, 2X4 sizes are available for various demand.
9. Certification: CE, RoHS, TUV, SAA, DLC, ETL, UL.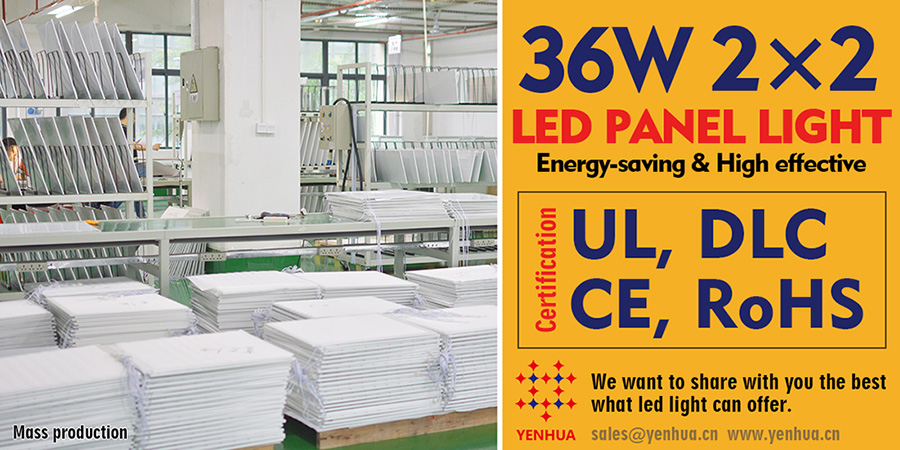 Yenhua Lighting take good care of details of LED panel
light. One of significant judgement standard for a piece
of good LED panel light is to deliver even and uniformed
light distribution without black spot, bright spot, and
water ripple belt. Yenhua panel light can give you co-
mfortable visual enjoyment in life. Besides, our QC and
QA systerm can ensure good performance and neat
appearance for finished prodcuts. Defective parts such
as crack on the frame joint and dirty spots on the white
frame are not allowed.
LED panel light has different dimming solutions such as DALI, 0/1-10V, Triac, Wifi, Zigbeen. We can help you with different solutions for your actual projects.
Three different ways to intall LED panel light, that is suspending, embeding, surface mounting. They are widely used in the bar, coffee house, shopping mall, hotel, restaurant, housing, office, showroom, counter, school, hospital, etc.

OEM and ODM service is provided. Welcome to inquire at any time.
Category: Blog, LED Panel Light News | Tags: led components,led light panel fixtures, led solution