Yenhua recently announced how to implement a MH replacement project in Germany. The project mainly involves LED high bay lighting in three warehouses. It is expected that after the project is launched, it will save sufficient maintenance costs and provide the required energy.
The project basically consists of replacing nearly 400 metal halide lamps, often abbreviated as MH. Previously, this 500-watt bulb was being replaced by Yenhua's 150W LED high-bay luminaire. By that time, LED high bay lights are being designed to replace HID and fluorescence technology in high-bay applications. However, with the increasing use of these products, even in recreational facilities, the project's goals are now better and more realistic in terms of energy efficiency.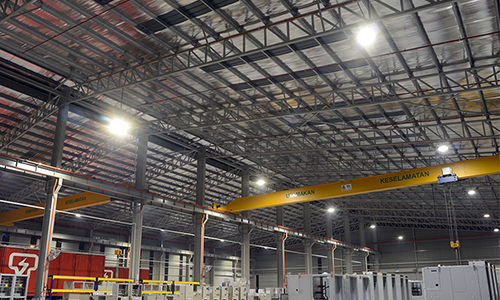 The plant equipment team looks for problems in the project and ensures that the brightness level in the
warehouse rises. This makes it easier to meet current lighting engineering research institutes, which is
often shortened to IES recommendations. Lighting consultants for engineering concepts and solutions
suggest that LED high bay lights are the best choice for cost savings, energy improvement and mainte-
nance lighting. The total energy savings also takes into account the HVAC energy savings brought by
Yenhua's LED products.
Therefore, the use of LED high bay lights is always good because it reduces lighting maintenance and
power consumption. This is because LEDs typically produce a small amount of heat compared to other
sources. Simon said this. He is the Vice President and Head of Engineering Concepts and Solutions.
The person in charge of the project continued and believed that there was a need to better control lighting in terms of additional energy savings. Simon also said that the warehouse staff needs everyone to acquire the necessary skills to control the lighting of each course, rather than having to open all the lights immediately. The new lighting provides such fine switching control. Yenhua series 150W LED high ceiling lighting efficiency can usually reach 120lm / W. The best thing about the Yenhua series of LED high bay lights is that they offer 3000K, 4000K and 5000K CCT. The light can be made with a microwave motion sensor. It is usally Used in warehouse, factory, workshop, etc.
Category: Company news , LED High Bay Light News | Tags: led warehouse lighting,led light highbay fixtures, led solution