LED Canopy lights are designed to mount overhead on a structure to provide even and direct lighting. They are best suited for gas stations, parking structures, car washes, walkways, entryways, and other covered, outdoor areas.
LEDs are the latest type of lighting being used in gas station canopies, and many business owners are switching to them for their aesthetic appeal, to reduce energy costs, and for their many other benefits.
If you are the owner of a gas station, do you know why some motorists choose to stop at your gas station and why others do not? Could it be your lighting? Should you upgrade your gas station to LED lighting? In most major metropolitan areas, you can usually find a gas station within a 5-mile radius and pass several stations on your daily commute. Knowing the factors that can influence a customer's decision to visit your gas station can seriously impact the bottom line and affect the growth of your business.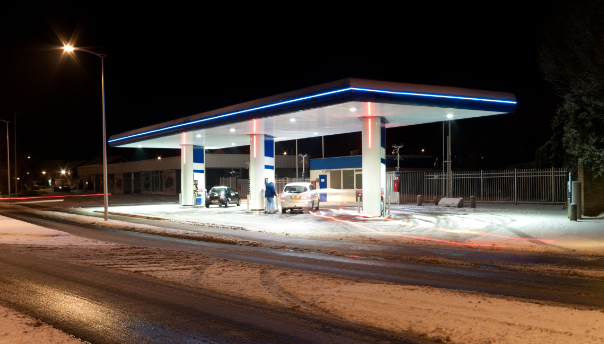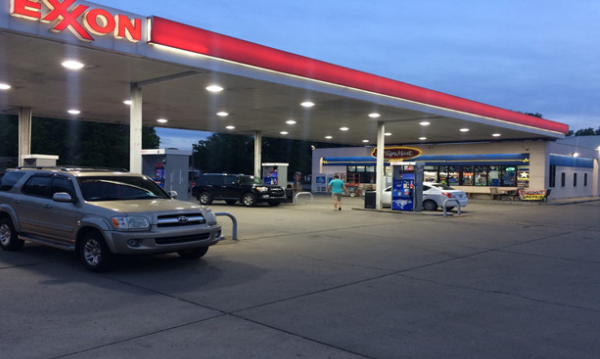 One of the main factors is your lighting. After sunset, take a look at your gas station from across the street and ask yourself "Does my lighting draw the attention of passing motorists. Does it make them feel safe?" If your answer is "No," then you may want to consider upgrading your gas station to LED lighting.
For the past 10 years, most gas stations that operate 24 hours a day use expensive High Intensity Discharge (HID) fixtures for the lights in the canopy. HIDs consume 175W to 400W of energy, but lose lumen output over time while utilizing the same amount of power. In other words, they are a waste of money and energy for less performance. HIDs also require a ballast, which means more maintenance for you. Once you factor in the costs of replacing a broken fixture (labor and lift rental), daily energy usage and maintenance, it's easy to see how HID lights have an expensive cost-of-ownership.
The LED Canopy/Soffit Luminaire has an extremely thin profile constructed of rugged cast aluminum. It can be surface mounted easily from below the canopy deck and can be pendant mounted. Direct imaging of the LEDs is eliminated with a highly efficient patterned flat glass lens. LED fixture uses 80% less energy, lasts 20X longer, reduces maintenance, emits virtually no heat and comes with a warranty of up to 5 years. LED Gas Station Canopy Lights are ideal for quickly and easily illuminating any canopy/soffit space while dramatically reducing energy consumption.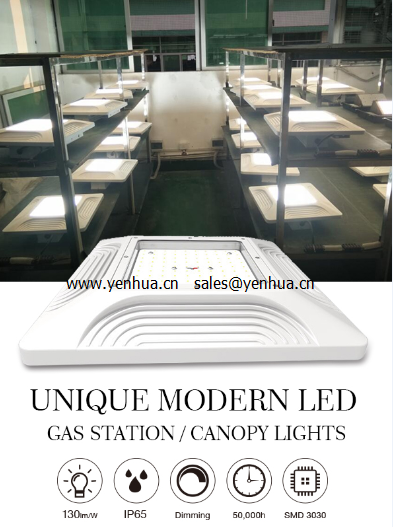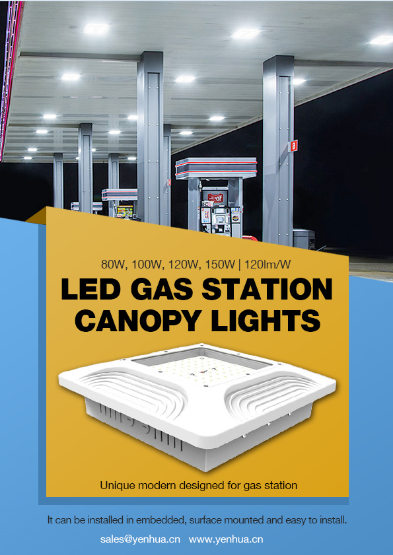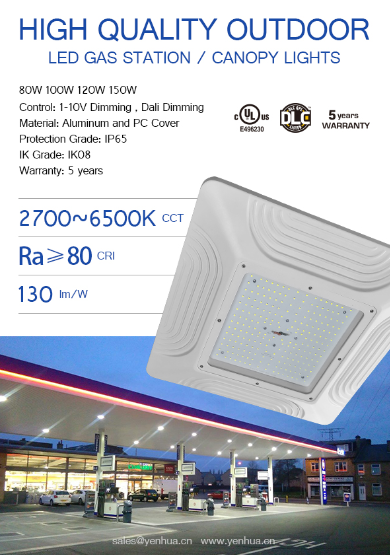 Applications: Petroleum canopies, CNG fueling stations, low-medium bay general lighting, soffits
CONSTRUCTION & MATERIALS
• Slim, low profile design
• Easy mounting and servicing from below the deck
• Luminaire housing is constructed of rugged cast aluminum with integral heat sink specifically designed for LED
ELECTRICAL SYSTEM
• Input Voltage: 100-277V 50/60Hz
• Power Factor: PF> 0.9
• Total Harmonic Distortion: < 20% at full load
• Using high quality 3030 chips, LM-80 report and IES data available.
• Mean Well UL/cUL driver.
• IP65 rating for outdoor use.
• UL/ETL/Lighting facts certificate
Over the past several years LED lighting technology has been replacing traditional lighting fixtures and lamps because they last longer, save energy, illuminate brighter and require less maintenance than halogen, incandescent, fluorescent and metal halide lighting.
Category: Company news , LED Canopy Light News | Tags: LED Lighting, LED light canopy fixtures, LED solution