The Square LED Panel Lights of high quality raw materials, Stylish everlasting color aluminum frame with advanced anodized and oxidation treatment. Modern & elegant appearance makes the ceiling more graceful.
100% of the aluminum frame,Excellent heat dissipation surface design,Smooth touch.
Frosted surface treatment,Smooth aluminum real color surface treatment, ivory white surface treatment are available.
Some advantages of LED Panel light as below:
· Energy Saving: Replace 80W fluorescent lamp and save over 55% on electricity bill.
· Two installation methods: Pendant or ceiling mounting installation are all available.
· Components Saving: No ballast and starter required.
· Instant full light: The starting time is less than 0.5s, no need to wait for warming up the lamp.
· Extremely long life: lowers maintenance costs by reducing re-lamp frequency.
· Solid State: Shockproof and vibration proof.
· Eco-Friendly: No lead or mercury.
· No Hazardous Emissions, No UV or IR Radiation.
Parameters
Preservation Temperature Range: -20℃~+40℃

Operational Temperature Range: -10℃~+40℃
Rating Life: 35000H
IP Protection: IP44
Certification: CE, RoHS, TUV, SAA
Dimensions(mm)

Product Features
· Adopt advanced LED side light-emitting technology, high light efficiency, high display finger
· No flash screen, soft light, can better protect the eyes
· Isolated constant current drive, safety and stability, no electric shock and other major hidden dangers
· Aircraft aluminium frame, light and thin, easy to install
Luminance Intensity Distribution

Installation way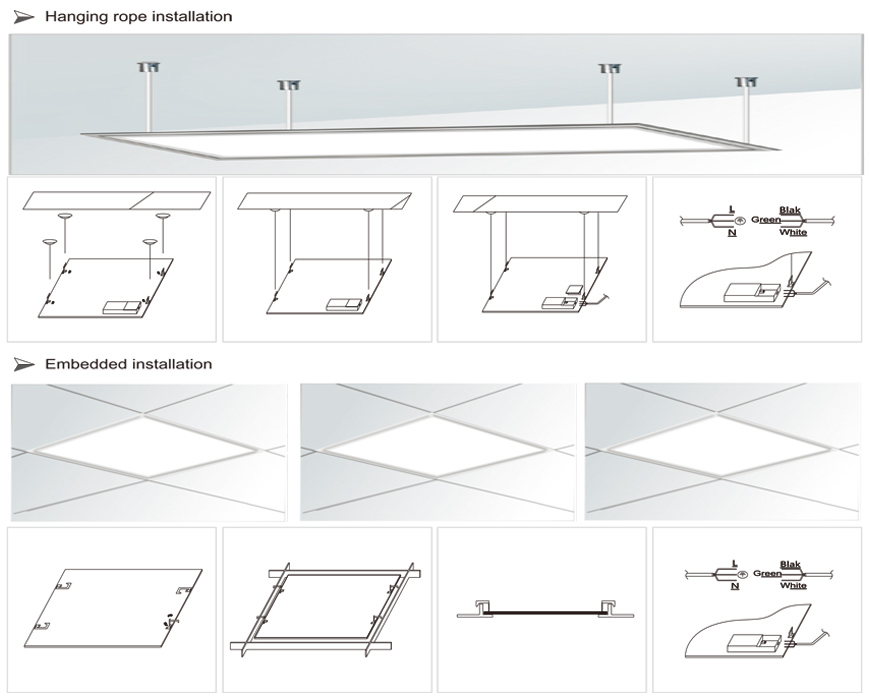 Applications
· Used in just about any indoor space. Use them in schools, offices, retail spaces, hospitals, and many other places.

Tags: led panel light, indoor lighting, office panel light, dimmable panel light